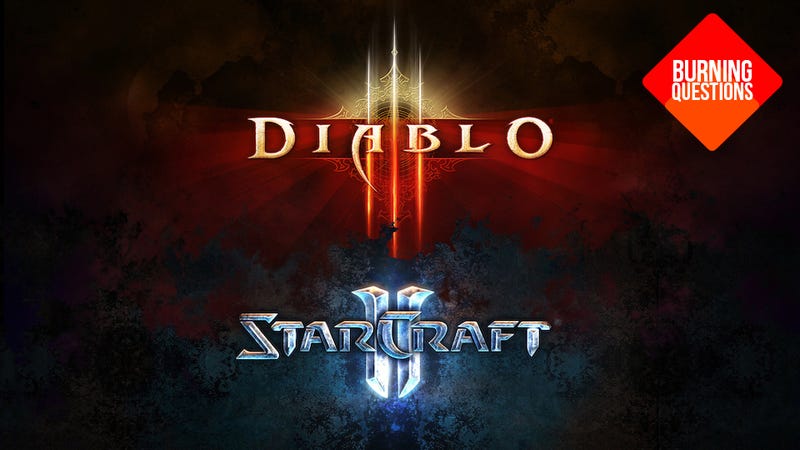 For this week's Burning Questions, Kirk and Jason talk about Blizzard games, specifically Diablo III and StarCraft II. Which game do they like better? Do the two games compliment one another? Why is pro-level StarCraft so fun to watch? What would it be like to live in a house made by Blizzard? Is "Eight Legged Freaks" the funniest hyphen-omission in cinematic history?
Whew! Those sure are some... Burning Questions.
Kirk: Hello there, Jasonamigo. I hope you're doing well. Today, we're going to talk about Blizzard games, specifically StarCraft II and Diablo III.
Jason: Hola, Kirktaku. Blizzard games? I love Blizzard games!
Kirk: So I've heard. And hey, so do I! Well, mostly. So this conversation is predicated by you and me talking a lot about StarCraft II, and we've both been playing a lot of Diablo III, and so we got to talking about how the games are different. Should we rehash that conversation for our readers?
Jason: If I recall correctly, I was telling you about how I got bored of Diablo III after an act or two, and how it just made me want to go play StarCraft.
Kirk: Right. So it starts with that comparison, though it's probably not the most helpful comparison. In fact, we've been wrestling with how to keep it out of the headline to this article. Which of course, we'll fail, since we kind of do want to discuss it: Which one is better, StarCraft II or Diablo III? I suppose the more relevant question to this discussion is: Which one do you prefer? It sounds like you prefer StarCraft II.
Jason: They're entirely different genres and entirely different beasts, so this is sort of like comparing apples and elephants, but yeah. To me, StarCraft II feels like much more of a game, much more of a strategic, skill-based endeavor. Diablo III is more like... well, FarmVille.
Kirk: Certainly not a fair comparison, but an interesting one if only because Blizzard seems to be amassing an arsenal of games to cater to every desire. On the one hand, you've got StarCraft II, which is this super-deep, pro-level strategy game. And on the other, you've got Diablo III, which despite the fact that it can get super duper hardcore is still a much more casual-style game than StarCraft.