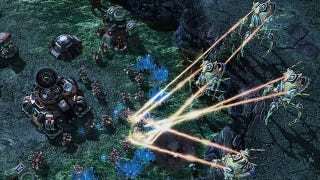 In StarCraft, you could play multiplayer games with your friends on local area network connections. In StarCraft II, you can't. It's online or bust.
This is a decision that has driven some fans crazy, and over the past couple of years, developer Blizzard has received no shortage of flack from infuriated gamers. Sometimes they don't have reliable Internet connections. Sometimes they want to get together and compete without having to worry about someone crapping out. Sometimes they just don't feel like being on Battle.net, Blizzard's ubiquitous online platform.
So when I spoke to StarCraft II designer Dustin Browder last week in a phone interview, I had to ask: Why is LAN still not an option?