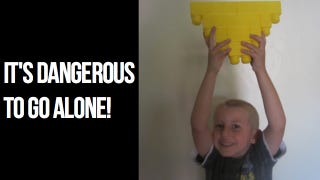 A great dad makes sure his son is better than he was. If you measure fatherhood by the accomplishments of offspring, then I've got substantial evidence that I'm the world's best dad. Well, one of the best, at least. Outside of maybe George H.W. Bush or Archie Manning. My evidence: I coached my 5-year-old son, Luke, through the OG 1986 The Legend of Zelda. We teamed up to curb-stomp one of the all-time bullies of gamedom, my arm around Luke's shoulder, barking Mickey Goldmill-like direction as he dutifully freed the tiny version of Hyrule downloaded on his 3DS.
"Zelda One," as Luke calls it, is as archaic and impenetrable as Latin Mass—and at least as holy. It sticks you in a forest of cruelly hidden secrets inside of secrets, thumb-burning battles and sanity-draining dungeons. Its idea of a tutorial is to start you off in front of a cave, which you'd better enter and accept a Nerf-like twig that's an excuse for a sword. From there it's up to you to venture off in any direction, with no advice as to the right way to go, slogging screen-by-screen through gantlets oozing with monsters that spit rocks, hurl spears or pounce on you.
Beating such a game is a daunting enough task for an adult, let alone a 5-year-old. But Luke has yet to learn the art of backing down from hellacious challenges. And also, I sorta Inceptioned him with the desire.
By far the best aspect of fatherhood is the ability to force your obsessions onto your kid, shaping his Play-Doh-like psyche in your own demented image.
Are 5-year-old boys supposed to be obsessed with games that came out 26 years ago? Is it normal for them to watch the Lord of the Rings trilogy at age 3 or quote Eminem and Tupac as toddlers? Are they supposed to be named after Star Wars characters? (At least we didn't go with Boba). It doesn't really matter, because dads write their own rules.
So, yeah, the Twilight Princess poster I hung above his crib when he was a baby, the Wind Waker Link plush figure (don't call it a doll) I got him for his first Christmas and the crappy 1980s Zelda cartoons I'd fed him along with baby formula nourished his Zelda lust. And taking him to the Symphony of the Goddesses orchestra tour only sealed the deal. Luke and Zelda One had been on a collision course since birth.
This isn't the first time Luke and Phil Villarreal have appeared in Kotaku. Back in 2007, when Luke was just an infant, Phil encouraged him to crawl by using an Xbox 360 controller as bait. "I cruelly had to take [it] from him afterward for fear he'd slobber it to death." Phil recalls.