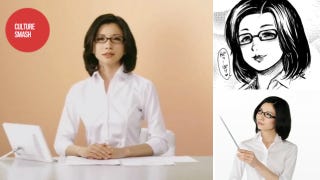 Dressed in smart business attire and glasses, she takes her seat behind a desk. She's here to explain a turn-based strategy game. Yet, online forums are buzzing in Japan that she is "way too erotic". She is Cepko Culd, Japanese gaming's newest sex symbol.
With Culdcept for 3DS, Nintendo is bringing Omiya Soft's classic fantasy strategy title Culdcept to its handheld. Not everyone is familiar with the card-based game, so if Japanese magazines like Famitsu (via Siliconera) say that Culdcept for the 3DS will be similar to 2001's Culdcept Second, not everyone knows what that means.
That's why Nintendo rolled out a campaign to explain Culdcept to the great unwashed. In the series of ads, a woman named Cepko Culd (カルド・セプ子) explains the rules and rattles off character names. Innocent enough, no? Yet, she's inspired a series of erotic fan art and has many Japanese gamers wondering who she really is.
Forgotten history and in-game vibrators aside, Nintendo is a family friendly company. Generally speaking, it doesn't deal much in innuendo. The character of Cepko flies on the radar. She is straight-laced, but there's a slight tinge of sexuality. For many in Japan, her appeal exists in that gap.