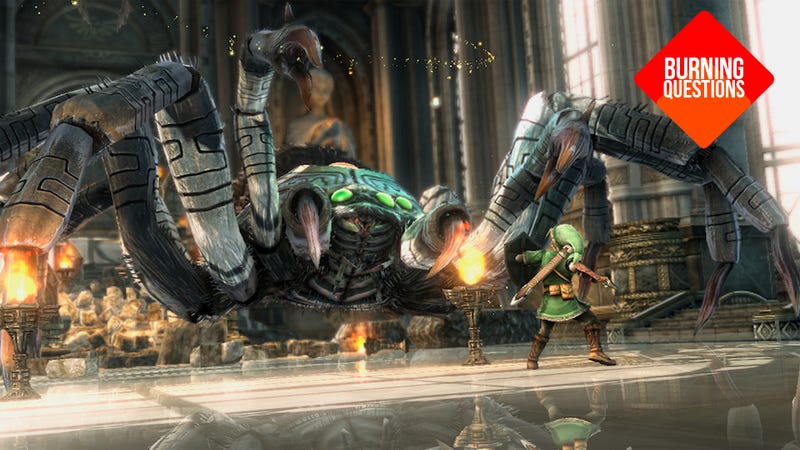 For this week's Burning Questions, Jason and Kirk return from E3 to talk about their impressions of Nintendo's next big console. What kinds of new games will the Wii U make possible? What will it take for the Wii U to be a success for gamers? Why can't any company but Microsoft make an easy-to-use gaming network? What's the story with Carl's Jr., anyway?
Someone douse those questions! They're so very... Burning.
Jason: Hey Kirkleton. We're just starting to recover from a wild E3 week that involved lots of coffee, lots of writing, and lots of no sleep. But it was a blast, don't you think?
Kirk: Yes! Jasonbro, I had a whole ton of fun. However I may have felt about the games, I have to say that I had a good time running around the event. It helped that my roommate was a pretty cool dude.
Jason: Your roommate was a total jerk! (Kirk's roommate was me. We set up a war room with two laptops, two iPads, two Mi-Fi wireless Internet devices, and roughly four billion cups of coffee. It was great.)
Kirk: Don't forget the Carl's Jr.!
Jason: I was TRYING to forget the Carl's Jr.
Kirk: I will never forget the Carl's Jr. I believe that parts of it are still digesting a week later.
Jason: That was one of E3's grosser moments. Let's move on.
Kirk: Yes, let's.
Jason: So what'd you think of the GAMES?
Kirk: The games were mixed. There were a few that I really liked, a lot that I already knew everything about, and one or two big surprises. I now want Persona 4 Golden even more than I thought I could, for example. You?
It's easy to read a lot into what the companies showed at their press conferences, but there were plenty of cool games and interesting ideas on the floor.
Jason: You know, I think the press briefings painted a grim picture of the future of gaming, but the actual show floor was a different story. I saw tons of cool-looking games: South Park: The Stick of Truth, Dishonored, Ni no Kuni, The Last Story, Orgarhythm, Final Fantasy Dimensions, and many many more. And, of course, there's the Wii U.