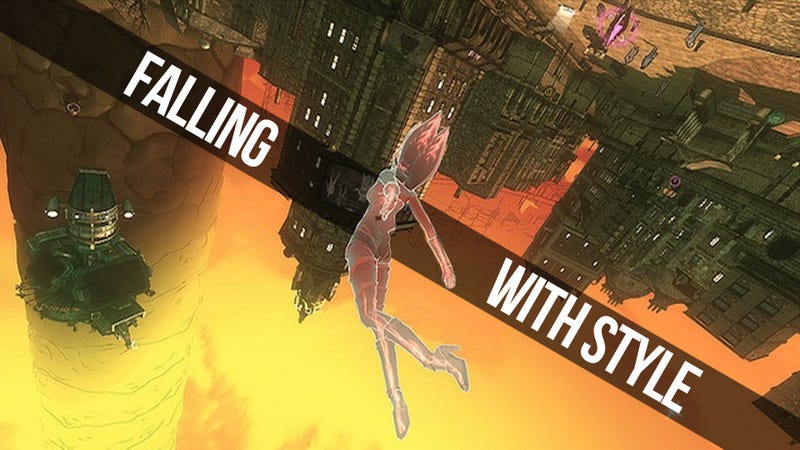 "This isn't flying. This is falling with style."
Gravity is a pernicious reminder of our physical limits. It's the thing that keeps us rooted to the ground, it pulls our bodies downwards, makes us slow, ages us. The dream of flight, then, is a rejection of that limitation—see me? I can fly, man. I'm free, I can do anything!
And yet, I've found that when playing games, it's not the flying that I find most exciting. It's the moment that comes after—when I re-engage with gravity and come tumbling back towards earth. Flying in video games is great, but I love to fall.
Gravity Rush, a splendid new adventure game for the PlayStation Vita, opens with a scene depicting an apple, tumbling to the ground. Sir Isaac Newton may be nowhere to be seen, but the scene's intent is clear: This is a game about falling, pure and simple. And man oh man, does this game do falling well.
The game's central, brilliant idea is to give the player the ability to change which way is "down," and so which way the protagonist Kat will fall. Another way to think about this is that the player is able to change the axis of the world on a whim. Video games have granted a lot of cool powers over the years, but this is among the coolest.
It's an extraordinary thing, this game's sense of freedom, of kinetic motion. With a double-tap of the right shoulder button, Kat launches into the air, wind blowing her hair behind her, skydiving upwards towards the wall of a skyscraper. She lands (three-point lands, obvs), and runs up the wall, only to "fall" off the edge of the building and go tumbling towards the horizon.
It's discombobulating at first—the "grav-boot" concept is nothing new to most people who play video games, but the idea of falling sideways off the lip of a skyscraper is. I was impressed with how quickly I got my head around the concept, and how much joy I found in simply getting around Gravity Rush's city of Heckesville. (It doesn't hurt that the game is gorgeously drawn, wonderfully animated, and features a lush and beautiful musical score. Despite a few flaws, mostly to do with repetitive combat, Gravity Rush is a game that I have yet to tire of playing. Evan agreed in our official review.)