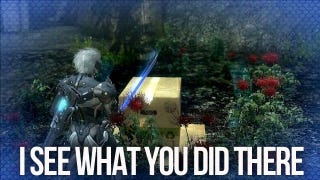 "This is not a stealth game," Platinum Games' Atsushi Inaba said of Metal Gear Rising: Revengeance. That's certainly true.
Rising is the latest in the traditionally stealth-heavy action game series, and from what I saw and played of the game, it's almost unrecognizable as a Metal Gear game. Moreover, the references that do exist to past games—from stealth segments to watermelons—are mostly played for laughs. That's certainly not a bad thing, but it does mean that Rising will be an interesting and possibly divisive entry in the long-running Metal Gear series.
Let's start with the stealth, which is typically the beating heart of a Metal Gear game. In the E3 demo of Metal Gear Rising: Revengeance, protagonist Raiden enters a compound full of soldiers. It's a setup familiar to Metal Gear fans, who would logically expect to sneak up on these soldiers and dispatch them one by one.
Raiden does this, to an extent—he enters the compound and proceeds to dispatch enemies one by one. But he does so in manner so simplistic as to seem humorous. Enemies are just oblivious to him—he runs forward, sword in hand—players can't adjust his stance or move slowly—comes up behind them and with a button-press, rams his sword through their back. There's nothing more to stealth than this, and no way to take down an enemy other than to sprint up behind them and perform a loud, gory kill.
Inevitably, Raiden gets spotted, and the trademark "Vrayrp!" sound effect plays, accompanying an exclamation mark over any remaining enemies' heads. But it's just window-dressing, it's there for show. In past Metal Gear games, the exclamation mark was a dreaded sound; it meant you had failed. Here, it indicates that it's time to get to the good part: The wicked swordplay.