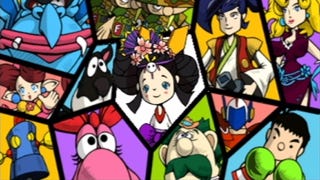 Captain Rainbow is a Wii adventure game centering on a Power Ranger-style superhero who has come to Mimin Island looking for a magical star that will be able to reignite his popularity.
However, he's not the only person who's come to this island in search of a second chance. Everyone else on the island is either a forgotten classic NES character or Skip Ltd. Nintendo character. But to get your wish of becoming popular, first you need to help everyone else get theirs. The way to do this? Win their friendship.
But who exactly are these characters and where do they come from. Let's take a look at them character by character to find out.
Birdo
Birdo, originally an egg-shooting boss from Super Mario Bros. 2, is probably the most well-known character in the game as she's long been part of the extended Mario cast—appearing in everything from Mario Kart to Mario Party. In Captain Rainbow, Birdo has been arrested for entering a women's restroom—since the police officer believes she is a man. To free her from jail, you must find something in her house that proves she's a girl. (Hint: It's a vibrator).