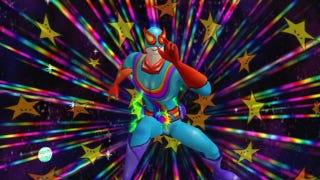 These days, most Nintendo-published video games are eventually released across the planet. But every once in a while, a game slips through the cracks. Thus it's more than a little ironic that Captain Rainbow, a game about Nintendo characters who have slipped through the cracks, is one of these Japan-only titles. But did Captain Rainbow never leave Japan for a good reason or is this just another title in the long list of games that have inexplicably never left Japanese shores?
Good — Surprising Sexual Humor
Adult humor is not something Nintendo is well known for. In the Wii generation, Nintendo has worked hard (especially in the West) to present a family-friendly image to pull in more and more of the children and casual markets. This makes the humor of Captain Rainbow all the more shocking. The most notorious example is the hunt for Birdo's vibrator but that is far from the only one. The entire quest for the samurai Takamaru revolves around him getting past his obsession with Tracy's giant breasts—which he has built a shrine to at the base of a rock face that resembles them. Ossan from NES golf is constantly scratching his balls—which often turn out to be golf balls shoved down the front of his overalls. These events present some truly funny moments and the constant feeling of "I can't believe this is a Nintendo game."