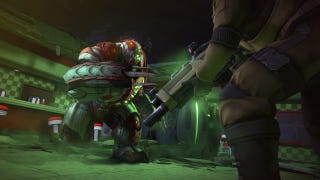 XCOM: Enemy Unknown reintroduces itself immediately with very familiar themes of sacrifice. In the first mission, a tutorial, I lost three squad members, and there seemed to be no way to avoid it.
The game, I think, was conditioning me not so much to accept death, but to accept that it is on the table whenever you send your men and women into action. Soldiers die permanently in this game because of your commands. It is a powerful influence upon millions of choices in the original, greatly loved strategy game, and Jake Solomon, Enemy Unknown's lead designer, swore that feeling would be in the one he's building at Firaxis.
"Her nickname is Doc, and her name is Irina Ignatieva," Solomon said, recalling a support soldier who made colonel on his last mission. "She was on this mission, a very, very difficult one, midway through. I lost four of my six soldiers."
Only Ignatieva and "Disco," a heavy weapons soldier, survived. Disco himself was mind-controlled and turned on his colleagues. He perished on the next operation. "From that point on, I was so attached to Irina," he said. "She was my only colonel at that point, and she was the only one who survived that mission."
She got all of the good gear, Solomon said, in a way I took as a tribute to her survival and her unit's sacrifice. "And when she did die, I was like ... ehhh turn off the game," Solomon said. "We're not saving that. We'll just reload."
It was charming to hear a developer talk about doing things, in his own game, that we do in ours when we come to that one result we just cannot accept, and to speak sentimentally of the personal canon he created in one. The fact longtime X-COM players—and Solomon is one—have taken decisive losses, crushing defections from their alliance, and gut-wrenching deaths and still moved forward probably earns them a mulligan or two when a favored soldier falls in the line of duty.