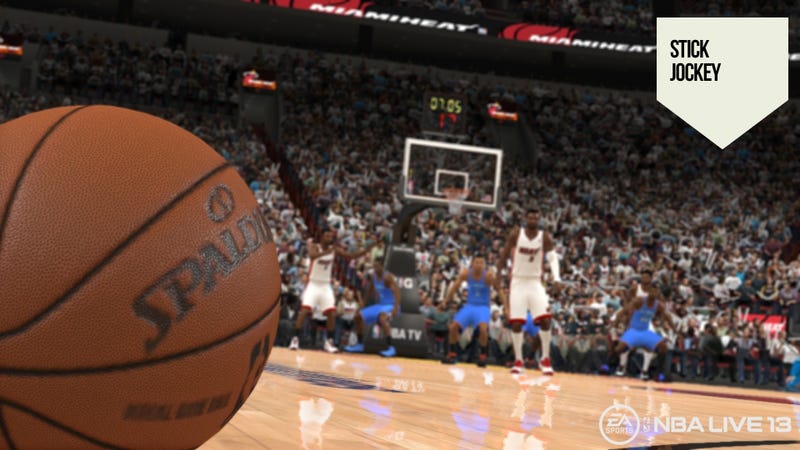 Amaré Stoudemire stands 6-foot-10. At that height, little lob-in passes are what the Knicks power forward receives, not what he throws. But he's a little out of position, with Carmelo Anthony set up on the right block in front of Miami's Udonis Haslem, asking for the ball. So here goes, because, it's not like Stoudemire's gonna call for a pick-and-roll with Jeremy Lin, even if this is video game basketball.

Stoudemire, as you would expect from a big man, sort of pushes the ball out and it's not on target. Anthony has to lunge away from the basket and high with his right hand to corral it, so there'll be no lowered-shoulder drive to the baseline. But there is now space between him and Haslem, so he turns and plops a 12-foot fadeaway with a signature flick of the wrist.
Even as a broken play executed in a video game that has yet to enter alpha state, it demonstrates that NBA Live 13, shown exclusively to Kotaku yesterday, has moments where it hits its gameplay ideals: authentic passing, recognizable players and behaviors, and a sophisticated, believable outcome with a minimum of control inputs.
E3 is mostly a graphics showcase, and NBA Live 13 indeed looks good. I'll get to that further down. Gameplay is what will feed the bulldog as this series tries to re-establish itself against very a formidable competitor in NBA 2K. And passing is what you'll likely hear the most about once others are shown the game beginning on Tuesday.
In a trip to EA Sports' Tiburon studio in April, I saw more guys working on passing than anything else, fitting for a game whose creative director was a college point guard. They're trying to make it a more intuitive act, directing the ball to your intended player without the extra step of bringing up icons and selecting a corresponding face button for an otherwise straightforward pass to the wing when a big man's also set up in the neighborhood.