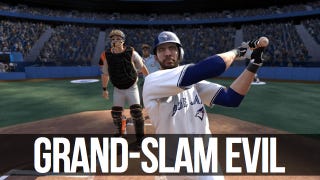 Downloadable content. Everyone hates it—but everyone buys it. We haven't had a look in a long while at the extensions and pre-order bonuses designed to crowbar money from you or direct you to spend it at a retailer you wouldn't otherwise. Can you still respect yourself if you go along with it?
MLB 12 The Show: Online Home Run Derby
Available: No date specified. My guess is as the All-Star Game approaches, either mid- or late-June
Price: Nominally free.
What You Get: You get the Online Home Run Derby, a feature promised in this year's edition but mysteriously missing at launch with no explanation. Well, now it's being added back in, but wait until you hear how you'll get it.
Why It's Evil: Because you have to download a stupid Taco Bell mobile app and play it against a friend on Facebook to unlock to mode in the game you bought. Even when Madden NFL 11 did that dumb 3D promotion with Doritos and ESPN the Magazine it wasn't this dumb, because all you did was buy chips and a magazine. Here, I assure you that app will be sending push notifications and the Facebook integration will be pulling your personal information to sell you and your friends crap no one wants. I suppose you can deactivate and delete everything once you play the obligatory game but it's a lot of hoops to jump through. Also, this app is for iOS and Android, which captures the two largest smartphone segments. But, what if I don't have an iOS or Android device?
Evil Score: 5/5. Not so much for holding out the content, because I really don't care for this gimmick mode, and I doubt many others do, too. It's the app and the forced visit to Facebook to inflate Taco Bell's numbers that pisses me off. Social media is best used when it builds your community; using the community to build your social media doesn't deserve much respect.
---
Transformers: Fall of Cybertron—Optimus Prime
Available: When the game releases.
Price: Pre-order bonus.
What You Get: The original, modular, you know cool Optimus Prime you remember from the 1980s toys, if you're that old, plus Megatron's gun and the Shockwave Blast Cannon, as weapons. All of these may be used in the game.
Why It's Evil: Because they're sending you to GameStop for it. Also, because the alternate pre-order bonus is "Disco Bruticus" as Fahey calls him, a wretched generation two version of the Combaticons assembled.
Evil Score: 2/5. Pretty much steers the Transformers diehards to GameStop on day one, while everyone else must wait on what is effectively a timed exclusive reveal of content developed for the game.