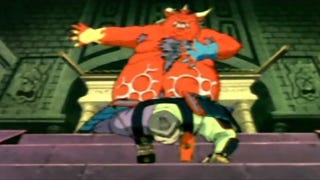 Before the 128-bit era, many Japanese games, especially RPGs, never left Japanese shores. But over the years, many of these classic, never-before-localized games have been released in English on consoles and handhelds. Walk Over My Corpse (Ore no Shikabane wo Koeteyuke), however, remains one of the few great JRPGs unplayed by western audiences—despite a PSP remaster coming out in Japan late last year.
Good — A Novel Concept
Set in a feudal Japan filled with spirits, monsters and the supernatural, Walk Over My Corpse starts with the death of two warriors at the hands of a demon. Upon their defeat, the demon takes their newborn child and places a two-fold curse upon it. First, the child and all its descendants will live an entire life in just two years. Secondly, they cannot have children with normal humans. However, there is a loophole—no one said it was against the rules to mate with the gods. Thus the family must adventure across the world, building renown among the gods and growing stronger with each successive generation in the hopes of one day defeating the demon and breaking the curse.
Good — Sumi-e Brings a Supernatural World to Life
Walk Over My Corpse's feudal Japanese setting is enhanced through its beautiful art direction. Backgrounds and monsters both in and out of battle are illustrated in the traditional Japanese art style of Sumi-e (ink wash) which then has been colored with watercolors. The result looks more like a painting than a game. Moreover, using the Sumi-e style allows for a large and varied cast of enemy monsters, all derived from traditional Japanese folklore. In a time where polygons are king, it's nice to see the beauty that can come from 2D painted backgrounds and sprites.
Good — Class-Based, Strategic Battles
When the game begins you only have access to two character classes, a swordsman and a naginata-wielder (the classes of your deceased parents). As you defeat the bosses in each dungeon you will unlock new classes, each of which has a specific role. Swordsmen attack one enemy in the front row for massive damage, while naginata-wielders can attack an entire row with one attack. Bowmen can hit the back row as well as the front, and spearmen can hit one
target in the front row and the enemy behind them at the same time. Building a balanced party among the game's six classes is necessary for victory.
The battles themselves are more than a bit different from your standard turn-based RPG. At the start of battle, a set of slots spin and stop on the items you will receive if the battle is won. Unlike most JRPGs, the battles in Walk Over My Corpse end not when all enemies are defeated but rather when the enemy commander is killed. Thus to get the maximum experience points in each battle, you must kill all the normal enemies and save the commander for last. Of course if you are just after the loot, killing the commander right off will make the battle faster. You will have to choose which way of fighting is best as your time in each dungeon is limited, and after 10 to 15 minutes, you'll have to leave (and return later) or choose to continue on with diminished stats. Falling in battle also diminishes your stats, and should they drop too low, your characters could die permanently, long before their two-year mark.