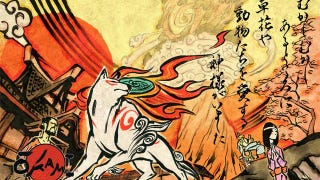 While playing the remake of classic JRPG Walk Over My Corpse on the PSP, I couldn't help but be dazzled by its traditional Japanese "Sumi-e" art style.
Sumi-e, for those of you who don't know, is a kind of painting where an artist uses nothing but black ink, brush, and rice paper to create a watercolor of the "soul" of its subject. Because it's all done in one color and erasing a line is impossible, the artist must be able to produce many different shades from the black ink—all while making no mistakes. The resulting images are as unique as they are beautiful.
But Walk Over My Corpse is not the only game to feature Sumi-e's "ink wash" painting style. Over the years, everything fromfighting games to driving games have embraced this art style in one form or another. Check out the gallery for some of the best examples.