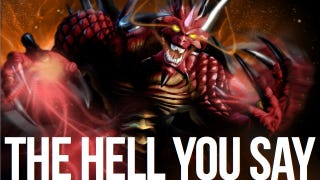 It's easy to sit back and scoff at "review bombing," as we saw last week when Blizzard released a broken Diablo III. Flooding Amazon to give zero stars to something others have called a perfect 10, sure, that's not a legitimate review. And people staging a sit-in aren't there to legitimately patronize a public accommodation, either. But a sit-in is a legitimate form of protest. And I think a review bomb is, too.

I say that even knowing that the hive-mind mentality of the Internet, where every disappointment is a scandal and an outrage, there's a potential for an author, a publisher, a maker of creative work who commits an imagined slight, to get roasted by a self-righteous, torchbearing mob. But that is not what happened in the case of Diablo III, even if the language and temperament of the review bombs carried the same indignant tone.
Diablo III is a good game, but on launch day in the U.S., it deserved what it got: A flogging not in its forums or over Facebook or on Twitter, 96 percent of which is already crap complaining about something. The game got ripped by its consumers in a setting where potential customers were informing a purchase decision—Amazon particularly, Metacritic a little more indirectly.