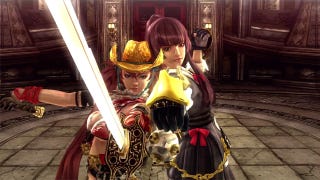 Onechanbara Z Kagura is the latest budget title in a long series of budget titles. Originally part of the Simple 2000 series (a set of over 100 games that cost less than $20 US on the PS2) it grew into a somewhat popular franchise through its cunning use of bikinis, swords, and busty women. While the only two installments to make it stateside were critically panned, that hasn't stopped a new one from being released earlier this year in Japan. But is this game nothing more than titillating zombie slaughter catering to the lowest common denominator, or is there something more to this hack and slasher than a few cheap thrills?
Good — Enjoyably Over-The-Top
The best thing about Onechanbara Z is how self-aware it is. This is a game with no illusions about itself. After all, the main character, Kagura, is a vampire dressed in nothing but a bikini, scarf, and cowboy hat who goes around killing monsters and zombies with katanas. And because this is the first game in the series to have a new set of main characters, the game is able to mock the series as a whole, even as it exists as part of it. Instead of a tall and polite speaking older sister, we get a short, hot-blooded older sister. Instead of a moé yet hot-blooded younger sister, we now get a tall and peaceful younger sister. And instead of scantily-clad women being covered in copious amounts of zombie blood, we get.... No, no, never mind. That's the same, only more so.
Good — Tons of Bosses
A happy surprise in Onechanbara Z is the sheer amount of boss fights. Many levels even have more than one. Now granted one type of boss, the hulking golem, appears pallet swapped four or five times, but all the other bosses appear just once in the game proper and once in the final castle. Golems aside, you will come across at least one boss battle every fifteen minutes, and as they are the most enjoyable part of the gameplay, each one is a welcome diversion.