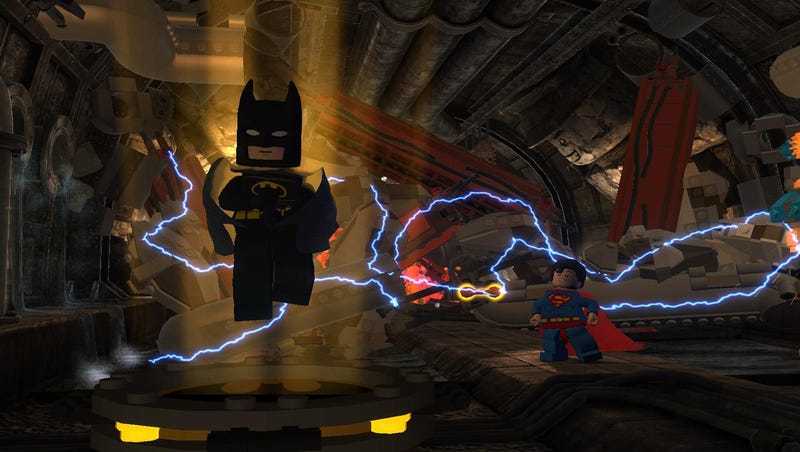 Let us begin Kotaku's Day of Video Game Preview (May 22nd edition) with a caveat about the information we may bring you about Lego Batman 2: DC Super-Heroes. I can't tell you if this game, which includes Batman, Superman, Wonder Woman, The Martian Manhunter, Cyborg and Green Lantern also includes Hawkman.
They're not talking about that yet.
You hit information brick walls like that when you're previewing video games.
The confirmation that Hawkman's in or out of this game is a secret?
It's nearly as astounding that they'll tell you the exact height of the terrific-looking open-world part of the game. Lego Batman 2's massive Gotham City—which you can actually play in split-screen—spans three islands. With a behind-the-back camera angle usually seen in Grand Theft Autos or Tomb Raiders instead of Lego games, you can drive through it in the Batmobile, find quests, switch to the Flash and run through its streets, don the Superman role (cue John Williams theme, delightfully enough) and soar to the sky above the city, and... how tall is this place?
"We knew how long we wanted it to take for you to travel from the top of the world to the bottom of the world," Jonathan Smith of Lego studio TT Games told me. "You start flying and when you get bored, you say, 'That's too long.'"
What's that time?
"It's a minute and a half."
That's the science of it?
"You just need to play the thing and you know what's fun."
Lego Batman 2, as we've covered before, is a new, original, linear Lego adventure that allows one or two players to punch through a gallery of rogues as Batman and/or Robin, changing into many super-powered gadget suits along the way. It is also a massive open-world game, connecting its levels together through an immense and fully explorable Gotham City, the first open environment in a Lego game and one that will let players romp through it as Batman, Robin, members of the Justice League or even some villains. Superman is a show-stealer in the game, introducing free-form flight in the open Gotham City, a switch from the generally land-bound gameplay of the long-running Lego series.