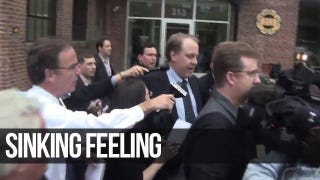 In a week filled with video-game related drama, one of the main stages has starred 38 Studios. The developer, based in Providence, Rhode Island, is evidently out of money, and can't repay their loans. Worse, the loan in question was from the state of Rhode Island, potentially leaving taxpayers footing the bill for incomplete MMO development. So with the situation changing almost hourly, here's everything we know about the saga of 38 Studios.
What's the history of 38 Studios, in a nutshell?
38 Studios, under its original name Green Monster Games, was founded by baseball star Curt Schilling in late 2006. (The name change to 38 Studios, after Schilling's jersey number, came in 2007.) As a pitcher for the Boston Red Sox, Schilling was instrumental in their 2004 World Series victory — and immediately became something of a New England local hero for it. He last pitched in 2007 and officially retired from baseball in 2009.
Meanwhile, Schilling had long been a big fan of MMORPGs, even showing up at the occasional sports press conference wearing an EverQuest hat, or even, in 2006, showing up as an NPC in EverQuest II. That he founded a game studio for his second-wave career was not surprising. Green Monster Games started in Maynard, a Boston suburb. Not long after, writer R. A. Salvatore and artist Todd McFarlane came on board to create a new, original fantasy world for the studio's games. The goal from the start was an MMORPG, codenamed Project Copernicus.
In 2009, 38 Studios acquired Baltimore-based developer Big Huge Games, who took on the development of a single-player game in the same fictional universe, which became this year's Kingdoms of Amalur: Reckoning.