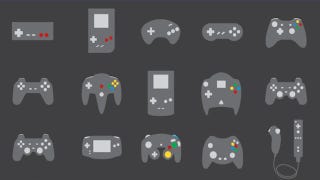 For this week's Burning Questions, Jason and Kirk talk about video game controllers. Which controller is better, Xbox or PlayStation? What do touch-screens like the Wii U and the Vita hold for the future? Is the Kinect good for anything except pausing Netflix videos (and is it even that good at that)? What is the difference between "Effect" and "Affect"?
Well, then. Those sure are some... Burning Questions.
Kirk: Why hello there, Jason. Today we're talking about controllers. Not flight controllers, or passive-aggressive boyfriend-controllers... Video game controllers!
Jason: So just to be clear, we're not talking about the bad guys from Animorphs?
Kirk: Nope. And we're also not talking about that one guy from Mass Effect 2. Though I'm sure someone will make an "assuming direct control" joke at some point. Unless that counts. Nope, just video game controllers. So: Much is made about how the biggest thing that sets games apart from other media like, say, movies, is the fact that we can interact with them. When we say "controllers," we're really talking about that—the means by which we interact with games. Controllers are the bridge between us and video games—they're kind of a big deal!
Jason: And for such a big deal, they can sure be annoying sometimes. But it's hard to enjoy games without them, isn't it? Can't live with'em; can't live without'em.
Kirk: Sort of like Tigers! Though more people are living with them than ever. Rather than wait until the end to answer the Big Question, I'll start with it: Do you prefer the Xbox 360 controller or the PlayStation 3 controller?
Jason: PlayStation 3. By FAR. It's sleeker, it's lighter, and it doesn't have those ugly extraneous bumper buttons. Plus, it doesn't require expensive batteries (although it's annoying when you forget to charge it just before you want to start playing Tales of Graces). What about you?
Kirk: I can't believe you prefer PS3. You CAD. I'm the opposite! I greatly prefer the 360 controller. When the 360 came out, I was so impressed with how well Microsoft had improved upon the (terrible) Xbox controller.
The ergonomics are fantastic, I think—it's close to the perfect controller for me, and I really do hope they add squeeze controls like that patent application suggests. And improve the D-pad. The PS3 feels too small for me, but I've grown to like it for everything but first-person shooters.