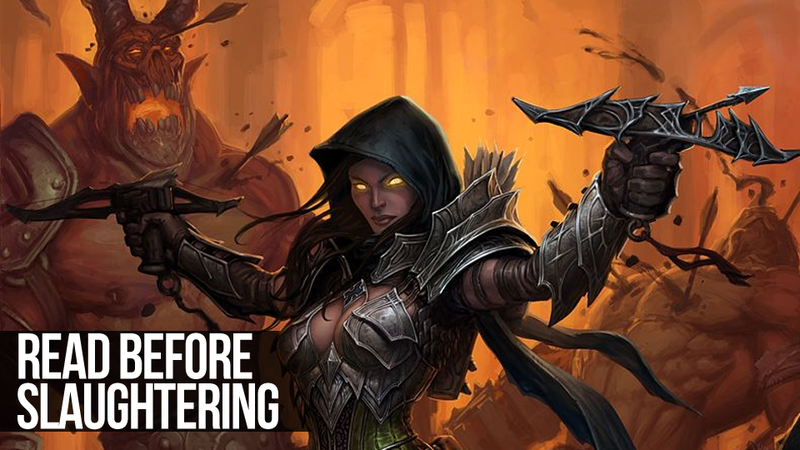 Diablo III is upon us, and while the more dedicated fans of Blizzard's action role-playing franchise are well on their way to total demon domination, players new to the series might need a little help getting started.
One does not simply walk into the depths of hell. Here are some helpful tips for getting the most out of your experience with the demonic sequel twelve years in the making.
Read Up on the First Two Games
Don't I mean play through the first two games? Well, no, not really. Diablo and Diablo II are excellent titles, but they aren't strictly necessary for the enjoyment of this title. If you really want to see where Diablo III came from then by all means, dig them up and dust them off, but I've a feeling you might be better off not doing that. The various changes made to the third title won't be a factor for you, you lucky bastard.
Instead of playing, head over to the Diablo Wiki or Blizzard's Diablo III page and read up on the lore that leads up to a star falling in our heroes' backyard.
Invest in a Nice Pair of Headphones
Sound design has always been one of Diablo's strong suits. The guttural gurgles of grotesque creatures falling in the face of your power is almost as powerful as the amazing music created to accompany your struggle against evil. Even the installation music is top notch; I was almost disappointed when the game was ready to play.
A nice speaker setup is fine and dandy, but there's always the looming threat of outside noises seeping in to ruin your experience. So get a good pair of ear cuppies and completely lose yourself. It doesn't need to be as fancy as SteelSeries' Diablo-specific headset; just something that will muffle the outside world for a while. And should someone have to tap you on the shoulder to get your attention in mid-game, well that's just another thing to make you jump, isn't it?