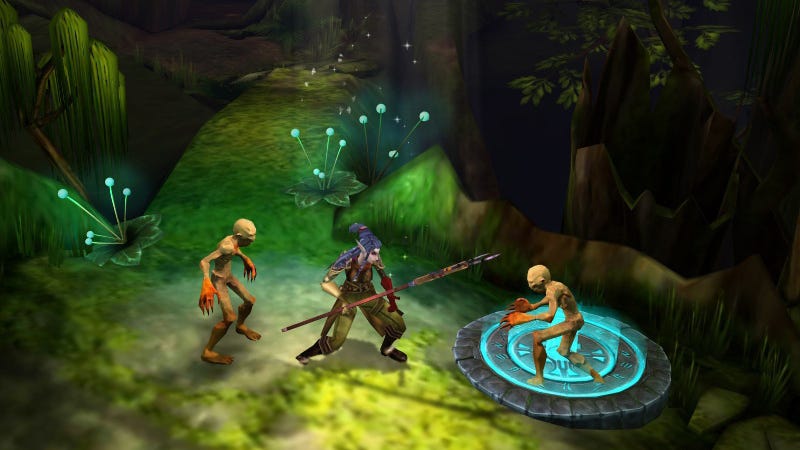 I'm in California this week for the purpose of checking out a bunch of video games that will be shown at E3 next month. I'm a pre-E3 Judge*, you see, bouncing from one showcase with a game publisher to another, signing lots of paperwork in which I swear not to tell people about these games for a few weeks.
Except: I can tell you about Square-Enix's 3DS games, because, according to Square logic, these games are coming out in the summer and therefore it's ok to not wait until E3. You might infer that nothing else I saw at Square-Enix's showcase will be out this summer, but maybe you shouldn't!
The three 3DS games they had were English-language versions of Kingdom Hearts 3D [Dream Drop Distance] and Theatrhythm Final Fantasy as well as the it-was-always-in-English-because-Americans-made-it Heroes of Ruin. I played them all, rapidly. I tried each for about 10 minutes, sort of like I was speed-dating with the games (spoiler: I went back to my hotel room alone).
Game journalists are often mocked, partially because of their wardrobe and partially because some of them—me!—frequently find themselves in situations such as last night's when they suddenly have to wrap their heads around three exotic games and then must humiliate themselves to the reading public by explaining that, uh, yeah I didn't play enough Final Fantasy to recognize many of the songs in the Final Fantasy music game I was playing last night and, well... let's see you get a new Kingdom Hearts role-playing game shoved in your hands and you try to make sense of it in a few minutes while trying to ask the assistant product manager nearby to refresh your memory about Kingdom Hearts lore.
What can I muster from something like this that you aren't able to get from some official website, or from, say the in-depth previews that one of our guys in Tokyo was able to write based on playing his very own copies of the games? (Richard on Kingdom Hearts; Richard on Theatrhythm).