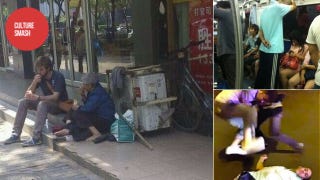 It was a touching scene. A young American male sat outside of a McDonald's in Nanjing, sharing a meal with a homeless lady. He had purchased two orders of French fries and poured water into her water bottle.

A passerby snapped photos and uploaded them onto a Chinese social working site. Online, people praised the young man—whose name is Jason Loose—and gave him the nickname "Brother Fries". This wasn't the only recent act of laowai (foreign) kindness: earlier this month, a Brazilian man got beat up as he attempted to stop a robbery.
And just as the Chinese internet dubbed both heroes, a 25 year-old British man was caught allegedly molesting multiple women and raping one. An altercation broke out and the 25-year was beaten senseless. Online, forums erupted with some stating how awful foreigners were.
In much of Asia, many people's interaction with foreigners is somewhat limited. Maybe they've studied English. Maybe they've met foreigners in bars. But simple math says that the vast majority of the population will not have any sort of meaningful interaction, such as being neighbors, work colleagues or even friends.
This isn't due to racism in countries like, say, China, South Korea, or Japan. Like I said, it's simple math: the number of foreigners is comparatively smaller, so not everyone has the opportunity to pursue a deeper interaction. Thus, much of people's perception of foreigners is based entirely on things they read online or popular culture they absorb. This isn't unique to Asia. This is, however, also why foreigners (in Japan, at least) are often peppered with possibly irksome questions and comments. People have a perception, which informs the things they ask and the things they think.