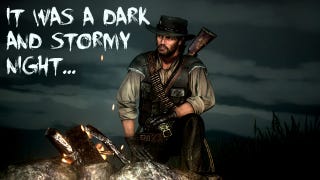 They say Red Dead Redemption is haunted, you know. They've said it for years now—ghosts exist in the system, devils and spooks and specters and maybe even a class-5 full-roaming vapor or two.

I've never encountered any ghosts in the game myself, but I've heard and read enough accounts that I'm willing to believe something spooky is going on.
I still go back to RDR from time to time. I've got a playthrough going where I've turned off the mini-map (which, as I've said before, makes these types of games really cool). I'll wander around, see what I see. Maybe if I'm feeling like it do a story mission.