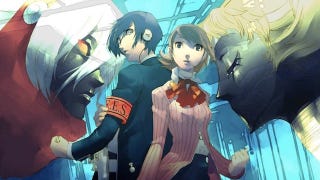 Some people believe that Japanese role-playing games are meant to be single-player experiences, enjoyed alone in the dim blue light of your living room during marathon binge sessions involving little to no contact with other human beings.
Other people believe that the first group of people are totally boring and that the single-player-only model is as obsolete as VHS tapes or paying for music. And also multi-player games make lots and lots of money.
"So who's right?" you might ask. "The hermits or the money-mongers?"
Good question. I don't know if there's an answer.
On one hand, if you ask the business executives behind gaming's biggest companies, single-player games are on the fast track to extinction. Square Enix Europe CEO Phil Rogers said as much just this week.
"The industry as a whole is realizing that all games, whether they be on console, PC or handheld, need to be social to survive," he told Gamasutra. "There are, of course, many different aspects to online play, but we see social and collaborative play as something that players of all types are increasingly interested in."
Square Enix is, of course, the publisher behind mammoth series Dragon Quest and Final Fantasy and one of the biggest players in the world of JRPGs. So when one of the company's top executives says that games can't survive without some sort of social play, it's worth a listen.
Not that Rogers' comments are much of a surprise to JRPG fans, who by now have probably noticed that the industry's most talented designers are focusing on social and mobile projects. The creator of Final Fantasy, who left Square Enix a while back, is now working on a mobile surfing game (that will likely have some sort of social aspect). Other big names that you may or may not have heard of are also working on games in the mobile and social sectors.