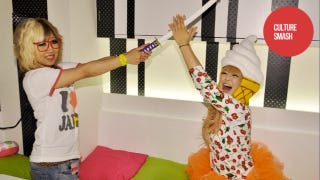 In geek districts like Tokyo's Akihabara and Osaka's Den-Den Town, maids in frilly dresses serve food and drink. Maids call their patrons "master" (ご主人様). But not all girls want to wear frilly drinks. Not all of them want to call patrons "master".

Sometimes they'd rather wear ice cream hats and hit people with plastic swords.
This is "10sion" (tension), a "gal cafe". Like maid cafes, it is staffed with young females and serves cute food. But unlike maid cafes, this spot isn't located in Tokyo's geek district. It's in schoolgirl's shopping heaven, Shibuya.
Shibuya is ground zero for "gal culture", which is spearheaded by fashionable young women often wearing cutting edge—or even outrageous—threads. For decades now, trend after trend has originated in Shibuya.
Those who want to meet maids, head to Akihabara. Those who want to meet geisha, go to Kyoto. But those who want to see gals, come to Shibuya. That's the concept behind 10sion.
To keep things "real", the staff doesn't use honorifics like maids. In fact, 10sion bans them. Instead, girls speak their typical informal—yet colorful—slang with customers. Gal slang is incredibly interesting and often clever, and it sometimes even enters the general lexicon.
At 10sion, there's cute food and colorful drinks, as well as silly games. The staffers are all Shibuya gals—one, Emika Kanda, is even a well-known model, who last year gave her baby boy a One Piece inspired name. She wasn't the first to do that!