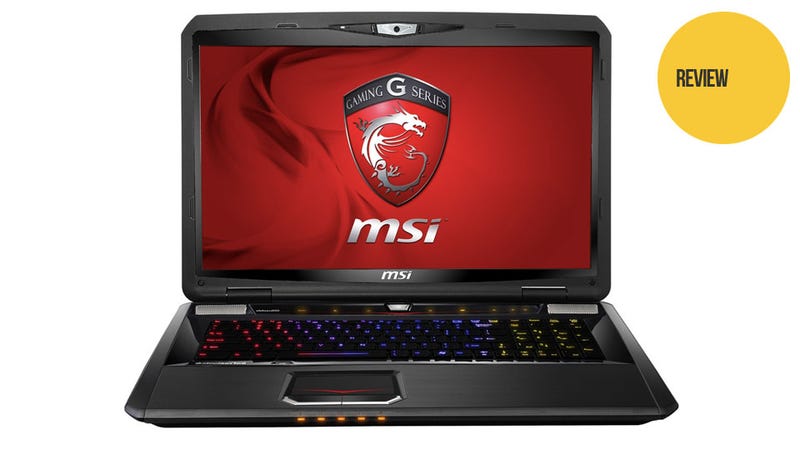 As a PC gamer that enjoys getting my hands on the latest hardware, the most exciting feature of MSi's new GT70 laptop should be the 2.3GHz Core i7-3610QM quad-core Ivy Bridge CPU or its ridiculously speedy storage solution, a combination of a 7,200RPM 750GB hard drive and a pair of Samsung 64GB solid state drives.

But neither of those impressive features is quite as engaging as that damn illuminated SteelSeries keyboard.
Oh don't worry, I'll discuss power and performance, but what's the first thing that catches your eye when you look at the article atop this review? After the orange circle. No, no, below the screen. Above the trackpad.
That's right, it's the multicolored glow of the keyboard, a shining beacon in a darkened room, calling me to come and play. It's completely customizable as well, with three illuminated sections that can change hue, turn on and off, breath, or roll in a constant wave.
It's not just the pretty colors. Each pressed key delivers a satisfying mechanical click, something I crave in a gaming laptop like a dying man craves... not dying. Look, my analogy skills might need work, but I know typing.
Okay, now that I've gotten that out of my system...
Joining the keyboard on the exterior of the GT70 is a pair of Dynaudio speakers, a mainstay of MSI's machines, providing sound a step above that of your average portable gaming rig. Between the speakers is a touch panel, giving easy access to several important controls, including the MSI Turbo Drive Engine (more on that in a bit) and the Cooler Boost button, which sends the unit's fan into noisy overdrive.
It also bears noting that one of the few issues I had with the previous MSi laptop I tested, the single-piece trackpad button, has been taken care of. The GT70 sports two buttons below an incredibly responsive pad, and while I still prefer an external mouse I don't hate it nearly as much as other finger-based navigation options.