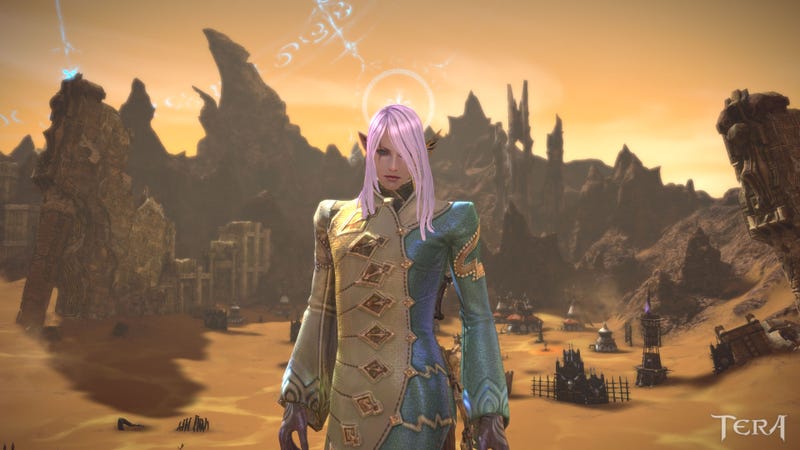 Since En Masse Entertainment's massively multiplayer fantasy role-playing game Tera officially launched last week I've taken nearly a hundred screenshots.

Of myself.
What can I say? Korean developer Bluehole, armed with Unreal Engine 3 technology, has created some damn fine-looking characters. While I for some odd reason prefer the androgyny of the male high elf, each of the game's seven races has its charms, from the powerful builds of the warrior Aman to the adorable potbellies of the animal Popori. Sure, the Elin look like little girls, but at least for the North American release they made sure they weren't wearing only panties.
So while I've done plenty besides stare at my pink-haired alter ego for the past week, his appearance figured heavily into everything else. I'd focus on quests that provided clothing rewards that suited his developing sense of style. I invested heavily in clothing dye, spending in-game currency for a temporary (24 hour) splash of color.
The developers seem aware of the game's potential for fashion obsession, allowing players to purchase clothing style templates so they can remodel their more powerful equipment into something more eye-pleasing. Last week I spent a substantial amount of gold making sure Back the Sorcerer looked as good as he played.
Why is that important? Other than eliciting comments that stroke my MMOego, Back has to match the gorgeous scenery that I stumble upon every time I turn the corner in The Exiled Realm of Arborea. Even now, nearly two weeks and 43 levels in, vistas like the swirling maelstrom give me pause (and cause me to hit the print screen button).
Propelling me through these glorious vistas are a series of quests that, while largely run-of-the-mill kill X number of Y enemies affairs, allow me to exercise the action combat that I've already raved about on several occasions.