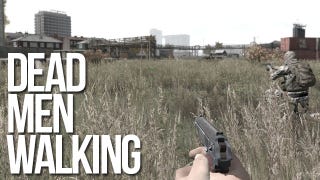 I don't like most zombie games because, well, they're not really zombie games. They're action games using the texture of a walking corpse as your opponent. From Resident Evil to Left 4 Dead, they don't really capture the essence of a good zombie yarn like Dawn of the Dead or The Walking Dead manage.
So it was with a little bit of excitement this week when I sat down with DayZ, a new zombie mod for ArmA II, a hyper-realistic combat simulator that also happens to be one of my favourite PC games of all time.
If you've never played ArmA II, it's an open world shooter where you control a single character who can...do whatever they want. Shoot a rifle, fly a plane, drive a tank, whatever. Only catch is nearly all those things handle and react as they would in the real world. So shooting somebody from 100 yards away, a mundane act in Call of Duty, becomes something to celebrate in ArmA. Especially since damage is also realistic.
So, into this framework comes DayZ, a multiplayer experience which has you taking the role of a zombie apocalypse survivor, stranded on an island that's populated with hundreds of zombies and dozens of other humans. Some of whom are there to help you, while others are there to kill you and take your stuff.
UPDATE - Here's what it's like when a large group of people actually get together and help each other out.