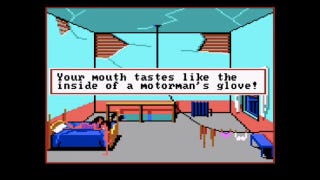 Yesterday, Al Lowe told me a dirty joke.
"What do you call a redneck with a pig under one arm and a sheep under the other arm?

"Bisexual."
Al Lowe likes telling jokes, many of them dirty. Back in 1987 he created Leisure Suit Larry, an adventure game about a loser who tries to score with hot women.
Earlier this week, he and a small team of dreamers who wanted to remake the original game with updated graphics and other new touches broke their goal of collecting more than $500,000 on the crowd-funding service Kickstarter.
They actually hauled in more than $650,000 which triggered a clause that guarantees that the remake will include a new girl for Larry to try to score with and a couple of new rooms.