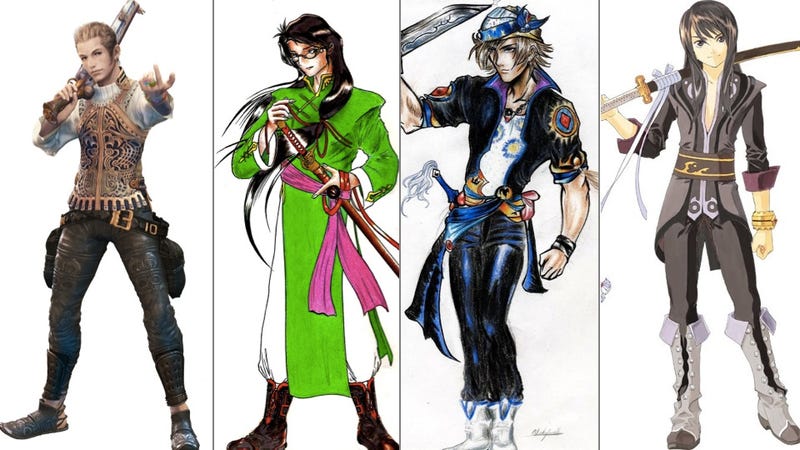 When I was a kid, I used to spend almost every summer at day camp. I'd ride the bus up across the Tappan Zee Bridge to upper-lowstate New York, where I was unceremoniously dumped on the grounds and told to go hang out with the other kids in my age group. We'd run around fields and go swimming and play basketball and just generally frolic around, being kids.
But I didn't want to play sports or hunt for weird animals in the lake. I wanted to think about video game characters. They were more interesting than the people around me. And since I couldn't spend all day in front of my Super Nintendo, I'd hang out with a small group of close friends and we'd all pretend to be characters from our favorite Japanese role-playing games. I was Shadow.
Today, I don't spend a lot of time pretending to be video game characters. But I do spend a lot of time thinking about what makes video game characters work.
See, the word "compelling" has become something of a buzzword in today's gaming industry, but it's a fitting adjective for great gaming characters. A good character is interesting, relatable, sympathetic, entertaining, and just all around badass. Even the silly ones.
But what makes a character resonate with an audience? Why do we care about the people we play? What makes us want to pretend we're them, even when we're away from our television screens?
Here are four potential explanations for what makes a JRPG character compelling.
(And, yes, these reasons can apply to all games, not just JRPGs. But this is a JRPG column. So.)
They're Really, Really Good At What They Do
As a general rule, human beings are attracted to skill. We're drawn to people who are capable of feats we can't accomplish, whether that's climbing up mountains or sorting through tax code. We're even willing to forgive or ignore a character's more despicable traits, if he or she is remarkable in some way. It's why we fall in love with the superstar thief, the hardened killer. The criminal mastermind.
Maybe that's why I dig Final Fantasy VI's Shadow oh so much. He might have been a coldhearted, nasty piece of work (who would "sell his own mama for a nickel," according to another character), but he was one hell of an assassin. He knew his shit.
Cloud Strife (Final Fantasy VII) is in a similar boat. He's whiny. Often annoying. But damn if he isn't one hell of a mercenary, capable of all sorts of near-impossible acrobatic moves and tricky sword techniques. He's got balls. He's willing to do whatever it takes to accomplish his goals, even if that means dressing up like a woman to do it. Why wouldn't any RPG fan want to be like him?
And there's that whole save-the-world thing. (Even if he couldn't save Aeris.)