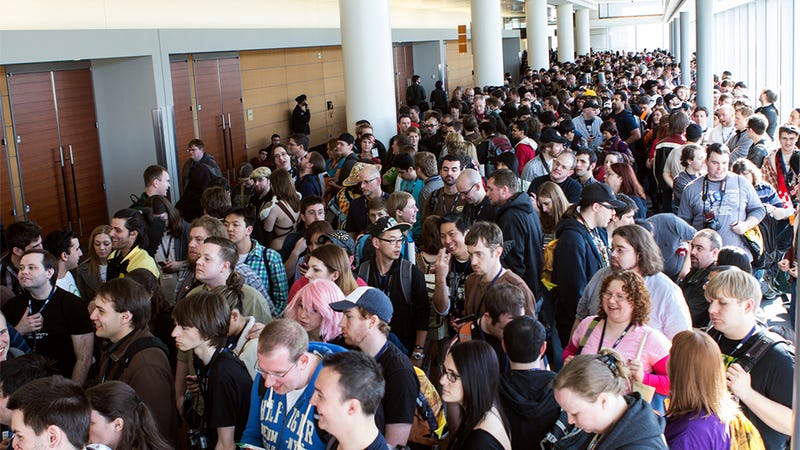 Boston is my birthplace and always my home, but I haven't lived there since late 2005. So for three years and counting, when the time for PAX East comes I find myself sitting in an airport, abuzz with energy.
While sitting at the gate at Dulles or Reagan, it can be alarmingly easy to spot other PAX-borne passengers headed my way. In 2010, the guys at the gate with the Mythic bags and jackets were clearly bound for Boston; this year, the young man with the DS and his girlfriend with the previous year's PAX scarf were shoo-ins. I travel happily, knowing that I am in the company of people who would understand my passion (and, now, my profession).
But for everyone who fits the mold, for every gamer we see who looks like a gamer or who wears the tribal fan-gear markers of belonging, there are others who don't. I can always spot a few other PAX-goers, on my flights, but I'm sure I only see a tiny fraction, and I doubt they once have ever spotted me. I don't look the way a gamer "should."
A recent, widely-shared GQ feature on PAX East highlighted the problem without even meaning to. The gentlemen's magazine, even today, aspires to an image of sophistication and class more in line with Mad Men than with Mega Man, and so that they ran the story at all is an indication of just how large and mainstream gaming culture now is. It's an interesting piece, worth a read, but one moment in the introduction leaped out at me for all the wrong reasons:
The underground double bus on Boston's silver line is filled to capacity with an unusually homogeneous crowd this morning. Mostly male, mostly twenty-something, mostly white, mostly dressed in slouchy windbreakers, cargo pants, and baggy jeans.
Seated not too far from me is a pair of black guys who for a minute might seem to be the only other people going somewhere else-until I listen in and hear: "Nah, dawg, it's like a first-person adventure/fantasy. You're saving these villagers from like an evil sorcerer..." and so on.
Writer Dennis Tang's initial assumptions about who was and wasn't "in the crowd" disappointed me. It is a sad truth that gaming absolutely still needs to be more diverse. In our games, our development studios, our press, and our culture, we have many miles to go in dealing well with issues of gender, race, and sexual orientation, as well as accessibility.