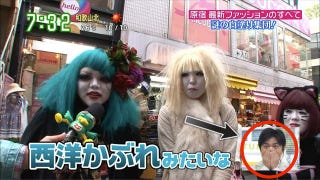 For years now, teens in Tokyo's fashionable Harajuku have been pushing the envelope with their Gothic Lolita outfits. Many young Japanese are fashion conscious, but cliques in Harajuku excel at wearing truly head-turning duds.

Whenever there is a colorful youth movement in Japan (and there always is), some Westerners look at the images that filter through, shrugging them off with a "Boy, Japan is so weird" and not realizing that much of Japan is doing the same with a, "Boy, Tokyo is so weird." The Japanese media adores covering these trends, because they make for good television. Then, out of each trend, a mini-celebrity often emerges, occasionally appearing on variety shows for a brief period to explain the nitty-gritty about the trend.
In the above image, the girl with white skin and aqua hair said, "Yeah, it looks like an ultra-Westernized Japanese person." The phrase she used is "seiyou kabure" (西洋かぶれ). Looking the girl, with her white face paint, and her desire to be "ultra-Westernized", it would be easy to simply say that this girl wants to be "white". You could say that, but you would be wrong.
As previously mentioned, before World War II, the term was used for shallow and elitist intellectuals. After the war, the meaning changed, and it was used to refer to those who admired European history and European culture—people like anime creators Isao Takahata and Hayao Miyazaki. You wouldn't say that either of these men wishes that they were white—that's utter nonsense. It's like saying any foreigner who is interested in Japanese culture (from history and food to anime and video games) wishes he was Japanese—likewise, nonsense.