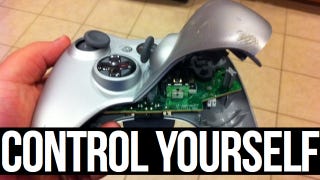 Two weeks ago, a million-dollar contest supplied an interesting prism through which to view the reactions to different people's failure to accomplish the same thing in a video game.

In one, a gamer stretched a remarkable achievement into an inhuman streak of perfection, ultimately snapped as much by bad luck as his own physical limitations. In others, their attempts were thwarted much earlier, before they could even be considered any kind of an achievement.
The failure to throw a perfect game in MLB 2K12 and the gamer's decision either to not throw a controller into the wall, or to shatter it upon the floor, was likewise either entirely sympathetic, or entirely contemptible.
"People who smash $50 controllers are childish douche bags," said one commenter, reacting to this anthology of disappointed gamers' disproportionate reactions. And that's certainly a reasonable opinion.