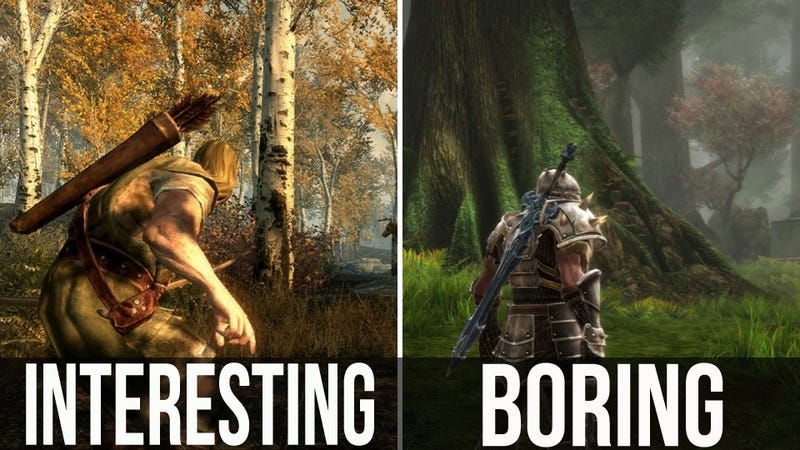 For today's Burning Questions, Kirk and Jason tackle Fantasy lore. Why are some game worlds believable and interesting while others are boring and rote? What makes "dark fantasy" "dark"? When does that moment come in an RPG when you say, "Okay, I'm into this"?
My, those are some… Burning Questions.
Kirk: Today we're going to talk about lore, believability, and why we buy into some fantasy worlds and not others. Let's start with The Witcher 2, which you're playing for the first time, right?
Jason: Yes! I stepped into a world of gritty fantasy and gratuitous sex scenes. Then I turned off Game of Thrones and started playing The Witcher 2.
Kirk: Ha. It does seem to be a fortuitous time to be releasing a game with The Witcher 2's subject matter, given how bananas everyone is over Game of Thrones. What do you think so far?
Jason: Well, rereleasing. That's me being an obnoxious twat and correcting your minor mistakes.
Kirk: Such a whoreson, you are.
Jason: But yeah. The Witcher 2! It seems really cool so far. It's GORGEOUS.
It's not just codex entries—The Witcher 2's lore permeates every aspect of its visual design.
Kirk: I was impressed with how they managed to get the thing looking so great on the 360, since it kinda makes my gaming PC chug a bit at "high" settings. It's good that they made it look good, too, since the appearance of the world is a big part of what makes it so believable and interesting for me. What do you think of the setting and the characters? Are you buying into it?
Jason: You know, I've been playing for a few hours so far—probably three or four—and I still don't know who most of the characters are. In typical fantasy fashion, they all like to throw around bizarre, clunky names with apostrophes and weird consonants and other strange tendencies.
So, like. It takes quite a while to start figuring out who is who and what is what. Like, what the hell is a Scoia'tael?
Kirk: Well, if you'd read my primer, you'd know.