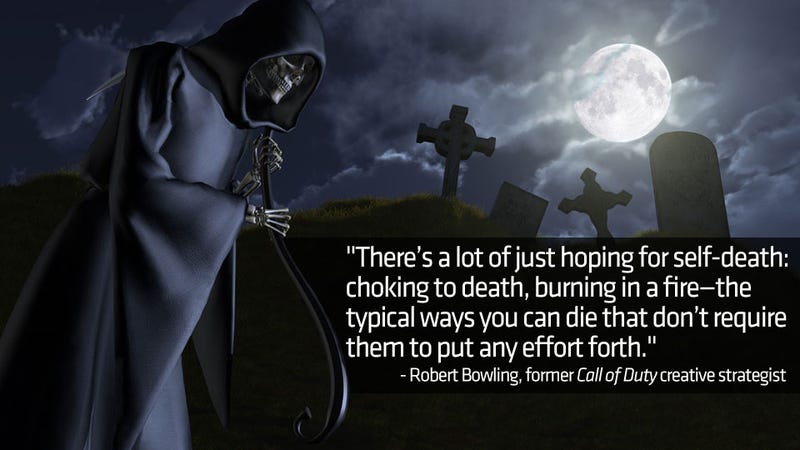 "The very first death threat I got was when we decided not to support dedicated servers in Modern Warfare 2," Robert Bowling, the former public face for the Call of Duty series, recently told me.
That was in 2009. He's had many more since, including batches of them every month throughout last year.
"They were creative," he recalls, thinking of the many people who sent them to him. "There's a lot of just hoping for self-death: choking to death, burning in a fire—the typical ways you can die that don't require them to put any effort forth.
"But there were plenty of the ones that would require them to put effort forth."

Receiving death threats was just part of the day job for Robert Bowling, who served as the creative strategist for lead Call of Duty development studio Infinity Ward during the series' rise over the last few years. He left the company after a seven-year stint in late March and is now the president of Robotoki Studios.
Bowling says he didn't take most of the threats seriously. Developers from around the world who were interviewed for this story said the same thing: the vile messages they receive calling for their death usually don't have the whiff of real, actionable intent to murder. They have nonetheless become common, lubricated by the ease of communicating online where he or she who is angry about a game finds release in threatening to kill their suddenly least-favorite game creators.
The death threats game developers receive are the expression of a small group of gamers who have taken their opinions to the extreme. They may not represent a gaming community's true feelings about a game. They have, however, ensured that as the people who create video games reach out to communicate with their fans, at least some of those fans will, rhetorically, try to draw blood. And if video game creators don't reach out? The angriest gamers will find them anyway.
People who make video games get threatened for the darnedest things, and not really for the kind of offenses that merit fatal retaliation. Maybe, for example, you're a successful game creator who doesn't want people to steal your game? Death threat time...
"I've received several death threats after the site giving out Minecraft for free shut down," the creator of the hugely popular and not-very-expensive video game Minecraft Tweeted earlier this month. "That is seriously not cool."
Bowling: "What I had to learn very early, is: 'Alright, don't take this stuff personally." They're clearly someone who is passionate. They are just very poor at expressing that passion.
For Minecraft's Markus "Notch" Persson the offense there might at least have been tied to a skewed sense of financial entitlement by some non-paying customers. But what did game developer Chris Condon do to compel an angry gamer to start a Twitter feed full of such un-constructive feedback as [sic] "i hope We never Met in Real life or i kill you"? As best as Condon could tell, "the core of it was the fact that I was making a Facebook game." There was a fan of his browser-based game series The Last Stand who didn't like that and complained, got banned from Condon's forums, then launched that Twitter screed.
Condon had had other threats, mostly triggered by that same offense of moving his games to Facebook. "I've had a bunch over the years," he said. "I've been doing browser based stuff for about five years.. and that crowd can be rough, real rough. Especially when you make the move to social games: Oh, the seething anger."
Some developers whom I contacted said they've never received a threat. Others in the industry said it was common. We even get some here at Kotaku. Reporter Tina Amini did when she wrote about Jennifer Hepler, a writer at Mass Effect studio BioWare who was besieged by angry gamers who felt she did not value the interactive parts of video games as much as she did the story.