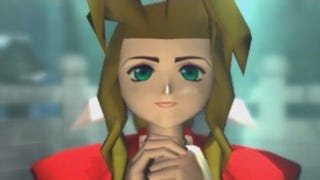 Let me paint you a picture.
You're Cloud, standing in the middle of an ancient city, surrounded by crystals and conch shells and crystallized conch shells. Your hair is irresponsibly spiky. Before you kneels Aeris, that flower girl you're sorta kinda crushing on. Her eyes are closed. She's praying.
Whoosh. Down comes that douchebag Sephiroth, his giant sword pointed directly at Aeris's back and— oh. Oh god. She's dead.
The camera slows down. You watch her body crumple as she falls to the ground. Only thing you can hear is a thumping heartbeat. You're paralyzed. She's not really dead, is she? She can't be. You want to cry. Not yet.
A white orb falls from her body and starts soaring up, then arcing down. Camera follows. The orb falls toward one of the nearby pedestals. Slowly. Gently hits the ground with a clink.
And then. Then. Aeris's Theme starts to play.
Break out the tissues. It's bawling time.
While Final Fantasy VII's infamous plot twist is packed with terrifyingly powerful emotions, the crowning moment of Aeris's death is not the second she's unceremoniously stabbed in the heart. That's just setup. The true wallop, the true catharsis comes when her song starts to play, when your ears register what's going on. The slow, soft piano melody that serves as both her introduction and her epitaph. That's the moment when her demise feels real.
You didn't cry when Sephiroth stabbed Aeris. You cried when you heard that song.
Go ahead and watch for yourself. Director Yoshinori Kitase took an economical approach to crafting this wonderful, harrowing scene. There are no shots wasted. You have just enough time to stare at your screen in utter shock before the music starts up. Watch the way the camera closes in tightly on Aeris's utter disbelief, on Sephiroth's smug satisfaction. Listen to how the white materia clinks, slightly out of sync with the music's rhythm, creating an uncomfortable dissonance that sticks with you for the next few hours, and weeks, and months, and years to come.
You didn't cry when Sephiroth stabbed Aeris. You cried when you heard that song.
Final Fantasy VII isn't alone here. When we think about our favorite Japanese role-playing games, we think first and foremost about their musical scores. And even the genre's harshest critics can't deny that the music in JRPGs tends to be nothing short of phenomenal. From the wacky beats of Persona to the grand, oceanic themes in Chrono Cross; from the haunting melodies of Legend of Mana to the triumphant victory themes that can make you feel like you just won the Super Bowl, JRPG music knows how to burrow into your earholes and never come out.