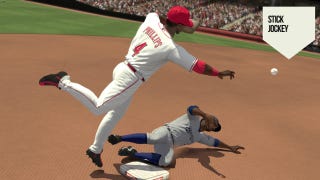 Though I wish I could say I was smart enough to think up this ruse in advance, I really did forget my backpack somewhere inside EA Sports' Tiburon studio during a recent visit. This became an opportunity to roam all of its upper four floors of development, though not unescorted.
Madden has its own section, Tiger Woods PGA Tour has its own section, NCAA Football has its own, and so on. "Which floor is the one where you're secretly building MVP Baseball?" I asked my contact. He chuckled, but not in a way that suggested anything.
Maybe I should have lost my backpack in British Columbia; before it was closed down by 2K Sports' infamous exclusive contract with Major League Baseball in 2005, MVP Baseball was built at EA Canada. But who knows. It's not like I was making an unannounced visit, and EA Sports has shown it is capable of keeping things secret even from others who work in the same building.