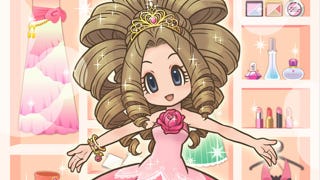 Earlier this week, I wrote about my first hour playing Girls RPG: Cinderellife. For a laugh, I poked and prodded the game, pointing out its less-than-inspiring portrayal of women—though this is nothing new when it comes to games or any other popular media really.

Most of the things I poked fun at were a direct result of the setting: a Japanese hostess club. Personally, I find the idea of an RPG for women romanticizing life in a hostess club hilarious in its absurdity—somewhere between a game romanticizing the life of a bar waitress and that of a stripper.
But gaming has always been about doing things you can't do in the real world, whether that be storming Omaha Beach or stopping an evil wizard from destroying the world. There is nothing wrong with hostess clubs being in games. Games have used them in various different ways in the past. In fact, Girl's RPG Cinderellife's evolved from a cell phone game named Kyabajoppi where you manage a hostess club that catered to famous anime characters. It's a fun and silly idea, and one that Cinderellife continues to embrace—just with the framing device slightly altered.