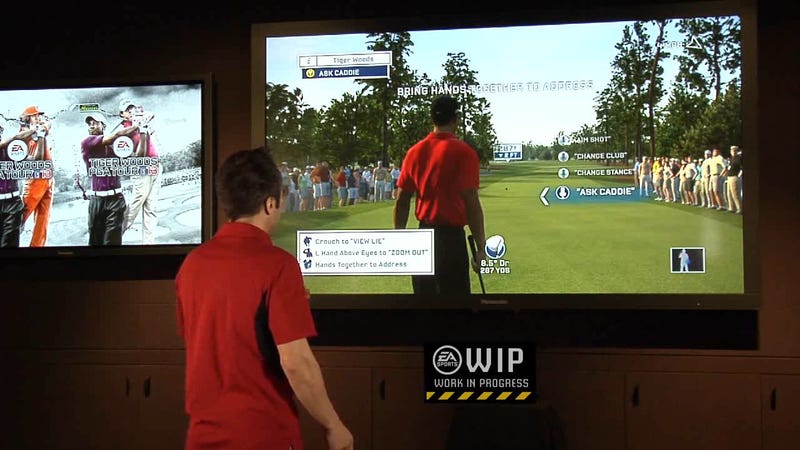 In a title update scheduled to arrive on April 20, gamers with Tiger Woods PGA Tour 13 and a Kinect sensor will be able to face the screen as they execute a golf swing, a more natural way to play video game golf, and a feature whose absence at launch made for some nonplussed reviews and gamer reaction.

As it is now, one 's swing is parallel to the screen, swinging away from it, usually facing a wall at the end. That mode of play will still be necessary for using Kinect on the game's top two difficulty levels, Tour Pro and Tournament. But on the bottom two, Amateur and Pro, gamers will be able to square up, aim their swing at the screen, swing away, and follow the ball's flight in a finishing posture more natural to real golf.
"Every time we play tested the game, the first thing people would do is turn sideways [and swing into the screen]," Mike DeVault, a senior designer on the game, told Kotaku today. "That's sort of the natural instinct, and you see the golfer on the screen doing that. It's what you gravitate to."
However, at the time they were building the swing control for Kinect, the device wasn't able to capture the data that they needed to make that swing a meaningful challenge. After receiving updates to the Kinect development kit, and the tuning of difficulty at Amateur and Pro, DeVault's team realized they could do a swing into the screen, but they would be unable to get it on the disc at launch.
"When we started developing the game, our preference was to make it the swing that everyone gravitates to," DeVault said. "But we could not get the data points we needed for the simulation."
The gameplay change will arrive via free title update over Xbox Live. Swing control for PlayStation Move, which has been part of the game since Tiger Woods PGA Tour 11, will remain the same: The player will swing parallel to the screen, not directly into it. Correction: Swing control for PlayStation Move supports both directions—swinging into the screen, or swinging parallel to it.
In playtesting, everyone swung into the screen. 'That's the natural instinct,' says DeVault. The game will support that pose come April 20.
When I visited DeVault and the Tiger Woods team last week, the disappointment that the Kinect feature wasn't better received was apparent. The swing position was my biggest gripe with the mode when I reviewed the game, too. DeVault hopes that this update will encourage gamers to give the mode a second look.