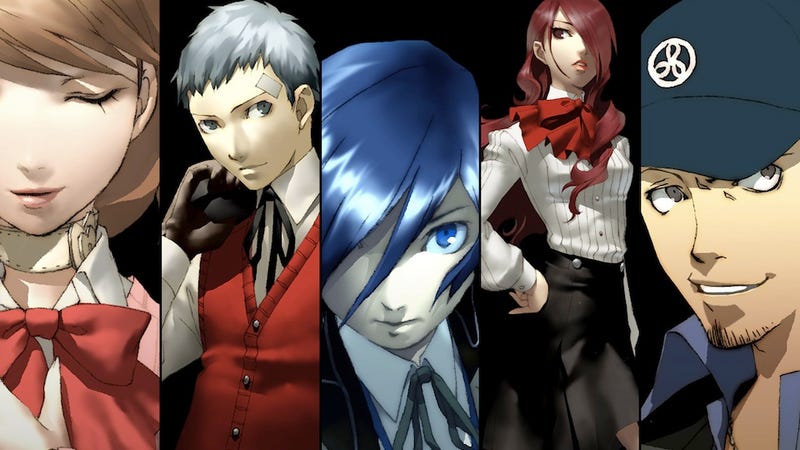 Yeah, sure, fine, there are a lot of great new games out right now. But for some reason, Persona 3 has captured the hearts and minds of not one but two Kotaku editors: Me (Kirk) and our resident JRPG expert Jason Schreier. We've been talking about the game pretty much every day, most likely to the detriment of our other work. So, we decided that we'd do a 2-player chat about what we've seen so far and open up the discussion.
If you've got a PSP or a Vita, you could certainly do worse than to download the game and give it a run—or heck, if you're really hardcore, you can now download the FES version of the original game to play on PS3. Take it from me, you won't find a better high school-based demon-fighting JRPG/Dating-sim anywhere.
So. What makes Persona 3 so stressful yet compelling? Why do we like having video game characters tell us what to do, especially if they have red hair? How much freedom is too much freedom? Isn't Kenji just the worst?
Jason: I am really enjoying Persona 3. But it makes me anxious. Every day I have so many options and every time I pick one I feel like I'm missing out on thousands of other scenes and possibilities and sexy ramen dinners with Kenji.
Kirk: I remember the first time I decided to hang out with Kenji after school, we went to get ramen, and he started telling me stuff about girls, and then whoops! It was the end of the day. Time to go home! By the way, I can't fucking stand Kenji.
Jason: Yeah, he's the worst. His facial expressions! I want to punch him in the head. Or take him to Tartarus and show him what real angst is.
Kirk: It gets worse, too. You'll see. I invested a troubling number of hours in building a social link with him, and it feels like a wasted investment since every time he calls me up, I want to tell him to go jump off a cliff.
Wait, let's back up. I'm farther in this game than you are, yeah?
Jason: I'm in late June right now. I just met this adorable dog who I assume will later become a party member because that would be weird and this game is all like "I want to be weird."
Kirk: Koro-chan! I have no comment as to whether or not your theory holds water. So I'm in early October, I just passed my birthday, I've put in about 40-odd hours and am on floor 150 or so in Tartarus. I'm getting the sense that I'm not actually all that close to the end, despite what the story keeps telling me!
What's nice is that New Game + lets you carry over a lot of the stuff you've accumulated while playing the opposite gender, so you don't have to re-build your social stats or social links. So, you can relax some of that anxiety you're feeling! All you have to do to see everything is sink another 100-ish hours into the game.
Jason: Oh, Kirk-senpai. Who has time for New Game + these days?

Kirk: Who indeed.
Which kind of brings us to that familiar RPG anxiety. I feel it too, in this game, though it's more mechanical—am I investing in the right social links? Is it smart to try to raise courage, academics, and charm? Should I focus on one? Which class of persona is the best? Etc.
Jason: So what I think is particularly clever about Persona 3 is that the game never feels like it's going to screw you over if you make the wrong decision. Like, if I hang out with my online girlfriend all day instead of studying, it won't really matter that much in the long run.
Kirk: That's true, at least in terms of the story, from what I've seen. The larger arcs aren't affected like they are in, say, Mass Effect.
Jason: Unlike real life, where I have to find the right balance between my online girlfriend, my Kenpo Club, and the old couple I hang out with at the bookstore.
"In Skyrim, for example, the passage of time isn't that big a deal."
Kirk: Ha! What's funny is, Persona 3 still has that feeling for me, where I'm making constant decisions, since time is actually passing. I like how the game is on a calendar, and it actually feels like it's on a calendar. In Skyrim, for example, the passage of time isn't that big a deal. If I want to wait a week to do something, I can literally just press buttons and wait an entire week in one place. In Persona, that's not an option—you need to account for your time, because it's finite.
It's stressful, but for some reason I really like it. Partly because it does feel a bit like real life! But in a structured, more simple way. It really does make me miss when I was in school. (As I've written before.)