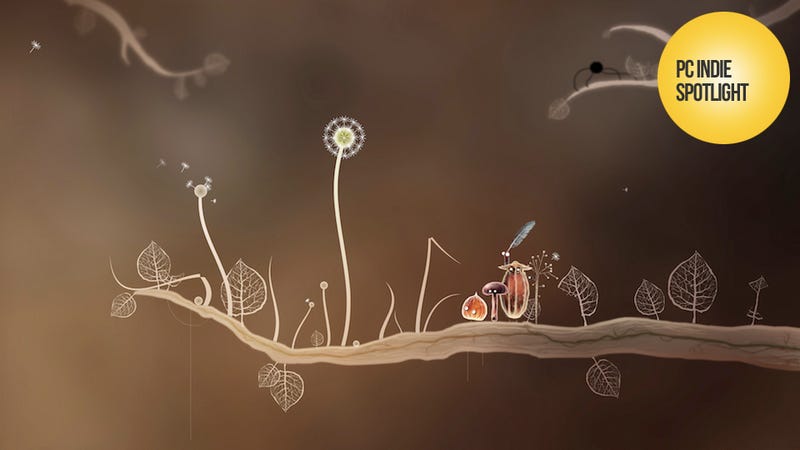 Joy is a terribly underrated commodity in video games. Most of the games I play inspire all kinds of feelings—stress, tension, exhilaration, frustration, even less-celebrated but still mentionable sensations like "comforting routine" and "empowering murder-fantasy."

There aren't all that many games that make me feel really, truly joyful. Botanicula is one of them.
Argh, this game. This game! It's basically a government-created smartbomb designed to deliver a payload of exuberant joie de vivre from your hard drive straight to your brain. Except it wasn't made in some government lab—it was made by actual people who put their actual selves into it. The result is a gorgeous, hilarious, endlessly creative, warm-hearted thing.
Botanicula, which comes out tomorrow and costs $10, is basically a point-and-click adventure game for PC, Mac or Linux. You'll be able to get it from Steam, the Mac App store, from GOG.com or direct from the developers.
In it, players control a group of five little nature-dudes who live in harmony on a giant tree. I call them "five little nature-dudes" since each one is different and it's not entirely clear just what they are. There's the little one-winger dragonfly dude, the little branch dude, the little(ish) fungus dude, little mushroom dude, and little glowing nut-dude.
Uh oh! Some scary black spider-things that more or less represent "evil" arrive and start sucking the life out of the tree. The head little nature-dude, (glowing nut-dude if you're keeping track) sees a vision and decides to get his little dude-friends and set out to stop them.
This is all conveyed without words—just like Machinarum, there's no talking in Botanicula, just goofy sorta-speak from various characters as well as visual representations of text that play like little cartoons.
Botanicula comes to us from Amanita Design, an independent Czech game development studio headed up by Jakub Dvorsky and Tomas Dvorak. Amanita is probably best known for their fabulous and too-often-overlooked adventure/puzzle game Machinarium. Have you played Machinarium? Good god, what are you doing with your life, etc. Go play it, etc. It's on like every platform known to man.
Where Machinarium relied on ingenious (if at times very difficult) puzzles roadblocking your progress, Botanicula is much more exploration-focused and, perhaps, approachable. I've been moseying through it and while all of its puzzles require brainpower and creativity, they're nothing close to the difficulty of Machinarium. They are fantastically creative, though—the game found a splendid number of ways to use my Macbook's trackpad, backing up Tim's notion that the apple trackpad is the best game controller yet made.