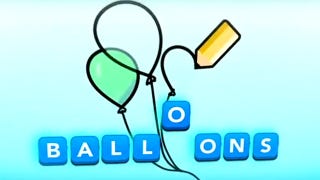 He was a stranger. I knew his first name, and he mine, but that was the extent of our acquaintance.
And yet, he and I were perfectly in sync. I knew his every move. He knew mine. And neither of us ever, ever doubted the other, or had to work to understand each other. We had different communication styles, but they meshed; our meanings were always clear.
It was the best Draw Something streak I'd ever had.
I spent many years avoiding online play, multiplayer gaming, and the entire social gaming sphere. I don't like having to rely on others, and I don't like feeling that they have to rely on me. Sometimes I might flake out, or be terrible at a game. And I don't like to share my failures or successes in public.
But in the last few months, something in me has changed. I've enjoyed more time spent online, playing in the company of friends and strangers, and I've begun picking up social games. I got sucked into Draw Something thanks to my colleague Tina singing its praises. I downloaded the iOS version of the game on my iPod, then announced my username on Twitter and prepared to face all comers.