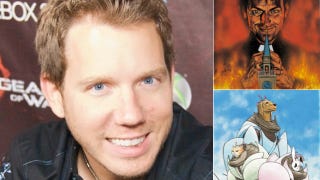 Cliff Bleszinski didn't grow up reading comic books. He was all about video games and movies as a kid. But that all changed when he started reading Preacher, the blasphemously brilliant series written by Garth Ennis, and drawn by Steve Dillon. The series published by DC Comics' Vertigo imprint opened Bleszinski up a whole new storytelling medium and he's been a regular reader ever since. I talked with Epic Games' Design Director last week about his favorite writers, superhero sex and why he loves dogs more than cats.
---
Kotaku: When did you start reading comics?

Bleszinski: I actually didn't get into them until about, God, eight or ten years ago. I didn't grow up reading them much. It was the one segment of this nerd pop culture I adored so much that I completely had ignored. I was so about '80s cartoons, and Jim Cameron movies, and Spielberg movies and video games that they completely went under the radar.
It wasn't until I was living in Southern California in my early 20s that I went to a Virgin Megastore in the Ontario Mills mall. Because when you live in the suburbs like that there's not a lot else to do besides go to the mall. It's either that or meth. And I chose the mall.
Kotaku: That's probably for the best.

Bleszinski: Well I went into this Virgin. And I had a hard time with classic superhero canon. I really wasn't that big on it, because Superman seemed very much like a Boy Scout and it all comes from him in some way or another. I was very much into darker things at that point in my career. Then I got a hold of Preacher and I started perusing it and just was like, "What is this?"
It defied anything I thought a comic book could be as far as being a graphic novel and telling a very adult story that dealt with very controversial themes in a very compelling way. And I picked up all of the books of Preacher and just burnt through them. And my obsession with all things Garth Ennis began at that point. And that was kind of the gateway to the other comics that I would wind up enjoying later in life.
My favorite thing to do is just to take a good book and sit on the beach and just burn through it.
Kotaku: It sound like you're a person who follows creators more than characters?

Bleszinski: I've always prided myself on knowing who the people are behind the scenes. If I get into an actor or writer-director, I find out everything I can. I'm not necessarily a DC or Marvel fan. It's more about following the ranks of like a Garth Ennis or a Grant Morrison or any of those guys.
Kotaku: Who are your must-read comic writers and/or artists?

Bleszinski: The top three off the bat, off the top of my head, because you are putting me on the spot, are Garth Ennis, I have to go with Grant Morrison, and then Kirkman.
Kotaku: Kirkman. That makes sense.

Bleszinski: Invincible is good but it wasn't in my opinion quite as strong as Walking Dead. Because Walking Dead just hit a super sweet spot. They're doing a pretty good job of adapting on the show. Warren Ellis is also great too.
Kotaku: What do these writers do for you as a consumer, as a reader? What spots do they hit for you that you aren't being satisfied elsewhere?

Bleszinski: What they are able to do within a graphic novel is give you the flow of a film but with you as the reader driving it forward at your own pace. There's a certain magic to that moment where a character says something at the bottom right-hand of a page.
And you turn the page and there's a two-page spread from, like, World War Hulk, and Hulk is crushing Iron Man in his Hulkbuster suit. There's a cadence and there's a flow to the graphic novel that you really don't see anywhere else. There's a reason why Hollywood executives love adapting graphic novels to film, because it's basically a very well drawn storyboard that they can just pick up and take to lunch if they want to.
Kotaku: What's your favorite Morrison work?

Bleszinski: Oh God. I think The Invisibles. That was completely bizarre in a good way.
Kotaku: It's interesting that you say Invisibles. That was not necessarily what I was expecting you to say. I was expecting like Batman Inc. stuff.

Bleszinski: Honestly, I need to go and read over The Invisibles again. Because he's on such a weird level that a lot of his books you have read and reread and reread.
Kotaku: Can you point to any way that comics have influenced your design sense? Your sense of what holds interest from a viewer's perspective?

Bleszinski: I use everything as grist for the mill. If you look at some of some of what Warren Ellis has written, things like Transmetropolitan, the world design is really amazing. That series happens in a filthy, dirty cyber-punk world, and that's one of those things that I would love to explore down the line. And I don't have the opportunity right now.
Transmet is basically a Hunter S. Thompson story. It's basically about a filthy drug-addled journalist who wants to expose corruption. It's not your typical gunslinging type story, which makes it more compelling. I've burnt through all those books a few years ago in the course of a few days. I need to go back and reread those as well.
Kotaku: Can you point to any comics that have influenced your creativity in terms of like Jazz Jackrabbit, your work on Unreal and Gears? Are there things where you're like, "OK, this is something I can actually work into a game."

Bleszinski: I can't get too much into it, but there may be certain elements of a certain graphic novel series that weaves itself into a project called Fortnite we're working on. And one could probably infer which title I alluded to before.