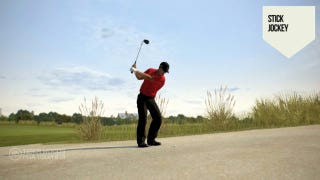 Brent Nielsen has a corner office catching 270 degrees of Florida sunshine, and his face lights up whenever you tell him a good golf story. Especially one that happened inside the game he makes, Tiger Woods PGA Tour.

"OK, so, I'm a stroke back of Tiger on No. 17 at Augusta," I open. Nielsen has a look like he can't wait to hear it.
That's good, because I can't wait to tell it. The Cliff's Notes version is that I go bunker on my second shot, hole out for birdie, and Tiger bogeys, giving me a miracle and the Green Jacket on the next hole. You can get more of the details here. I'm not sure I'll ever have a moment that heart-pounding, exciting or fulfilling in a sports video game again.