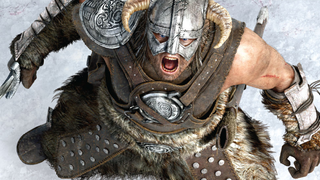 There I stood, before the Greybeards, ready to learn the truth of my existence as a Dragonborn. Einarth stared down at the floor, and thus spake "Ro." Strange runes glowed upon the stones at my feet.

The last one looked like ™.
If ZeniMax Media is going to trademark a thu'um—in this case, the most recognizable Dragon Shout from The Elder Scrolls V: Skyrim, might as well go whole hog, right? Just put that ™ notice into the game. Right there, at High Hrothgar. Hell, go ahead and trademark iis slen nus, and strun bah qo and feim zii gron and all the rest.