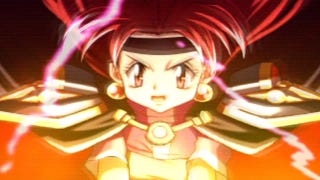 The PSP role-playing game Heroes Phantasia takes nine popular fantasy and sci-fi anime—Blood+, Read or Die, My-HiME, s-CRY-d, Darker Than Black, Slayers Revolution, Sorcerous Stabber Orphen, Rune Soldier Louie, and Sgt. Frog—and mixes them into one giant cross-over adventure. And while fans of these shows will no doubt be excited to play as their favorite characters, the question remains: is there a good game buried beneath the fan-service or is it all flash and no substance?
Good — The Characters You Love Are Back
This is far from the first time that Bandai Namco has created a massive anime crossover. The Super Robot Wars series alone is comprised of no less than 33 titles that have incorporated nearly every giant robot anime ever made at some point or another. So it's safe to say that it is no stranger to the art of cross-over.
In Heroes Phantasia, every character has his or her own comments to make on the situations in the story as it progresses—to the point where five-minute talking scenes are not uncommon. They also make cross-series friendships which often alter how any given anime sub-plot wraps up. It is a fun twist for any who know and love the parent series.
Bad — Overall Story
Unfortunately, the over-arching original plot of the game seems little more than an
afterthought. The barriers between the two worlds, one magical and one technological, are weakening. On one side, is a princess of good who is gathering the anime heroes; and on the other, an evil pair of men are helping out the villains. This plot is little more than a tool to justify all the characters meeting. To that purpose it succeeds, but it does almost nothing else.
Mixed — A Great Battle System Squandered
The battle system is clever, complex, and has a lot going for it as we've mentioned on Kotaku before. It not only allows a total of sixteen characters in battle at once but also makes each of your four squads useful in battle. Few characters are simply standing around. On the back end,