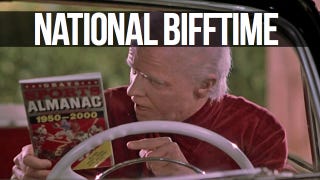 Hey, are you a sports fan on the go? Who has time these days to watch the big game, or bother with messy DVR, or boring highlight shows? With Biff Tannen's Sports Almanac, we'll give you the weekend's biggest matchups before they happen, thanks to these highly accurate peer-reviewed scientific simulations of sports video gaming's finest titles.

OK, wimps. We've got the exciting finish of the NHL regular season this weekend, the Brits have a nice top-of-table match going tomorrow, unless it's already tomorrow there, I can never tell what time it is. And there are four baseball games tonight if you want to go get your Pete Rose on. Give Staten Island Val my regards.
Major League Baseball
simulated using MLB 12 The Show
Rosters current as of April 2.
As of publication time there are eight teams that have yet to play their season opener in Major League Baseball's utterly jackassed approach to opening day.