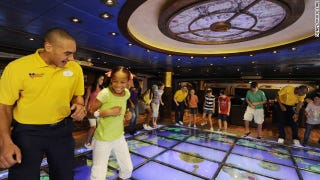 A cruise can be a great way for a family to unplug from daily demands and distractions, and to bask in the salt air and sunshine. Or, if it's a Disney cruise on their two newest ships, it can be a chance to play a high def, room-sized, 32-player video game while floating on the Atlantic.
According to CNN, the Disney Dream and its sister ship the Disney Fantasy, which launches this week, use touch screen and light sensor technologies to create a space called the Magic Play Floor. As CNN describes:
The Magic Play Floor, which is available on both the Dream and the Fantasy, is made up of 32 high-definition displays that push 14 million pixels, which isn't something that's going to be replicated on an Xbox 360 or PlayStation 3.

This massive floor puts arcade games like Dance Dance Revolution to shame and allows up to 32 kids (16 adults) to gather around the edges and interact with the video games that unfold on the screens by using their feet or hands.

Around the border of these displays are light pad controllers. There are 48 sensors in each controller that detect the location, the motion and the proximity of each player.
Naturally, the games designed to take advantage of the Magic Play Floor and the smaller Magic Play Tables all star Disney characters and take advantage of Disney properties like Tron and Lilo & Stitch. The combination of massive, detailed touch screens and Kinect-like sensor technology, though, could make for some fascinating gameplay experiences.
The ships also feature scavenger-hunt style games similar to Disney World's Sorcerers of the Magic Kingdom experience, as well as detailed golf simulators for both adults and children.