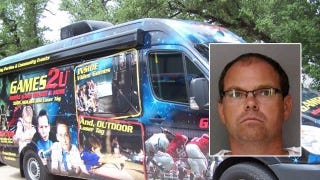 Games2U is a mobile franchise business that operates vans packed with video game consoles, renting them out for children's parties and other special occasions. It sounds like the perfect business for a child molester. According to authorities, Leonard R. Filipkowski of Lakeland, Florida thought so too.
The 44-year-old owner of the local Games2U franchise faces nine counts of lewd and lascivious molestation on a victim under 16 years of age and 11 counts of lewd and lascivious exhibition in the presence of a child. He was arrested by the Polk County Sheriff's Office early this morning.
According to police Filipkowski used the company van to commit sexual acts with a 13-year-old and also admitted to having sexual relations with a 13 or 14-year old victim in his home.
During a press conference held today Polk Sheriff Grady Judd called Filipkowski, who had no previous criminal history, "our worst nightmare", adding "He has no criminal record, no history... and he has a van."
Filipkowski in front of one of his Games2U vehicles, via his Facebook page.

Games2U, which we've covered here in the past, was established in 2007 by a pair of brothers based out of Austin, Texas. Since then the company has expanded rapidly, with more than 140 franchises in 28 states. The final paragraph in the 'About Us' section of the company website reads: "We love what we do. And it shows in the way we run our business. We think you're going to love what we do even more."