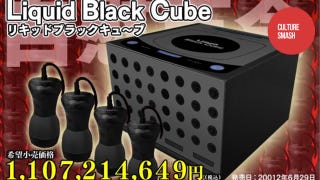 And that day was yesterday, April 1. As it does every year, the Japanese erotic game industry showed its sense of humor with a handful of adult-related gaming peripherals that will thankfully never see the light of day. Or will they?

There's Nexton Liquid with Liquid Black Cute, a "dedicated erotic game hardware" it's apparently developing. The price tag is ¥1,107,214,649 or US$13 million.
Elsewhere Illusion, known for its Real Kanojo games, had a set of three "used" life-sized love dolls on sale for ¥1,000,000 ($12,000)—on sale for Apr. 1 only! While another ero game maker, Pil/CodePink, had its "Eternal Magician" peripheral and used a banana to show how it worked.